CHEERS Your one–stop catering company. Let us take care of your licensed event.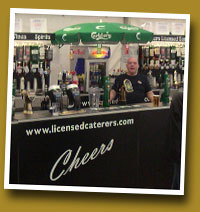 CHEERS takes the worry out of all the arrangements. With over 17 years experience in the licensed trade, we're masters of the art.
And your CHEERS package is totally flexible — anything from providing bar services for a private party to running a public event catering for 100,000 visitors or more.
See 'About us' for all the facts on the CHEERS unique mobile bar system and how we can arrange for licensing, marquee, security, lighting, advice in fact, everything you will need.
AND... every event is under the personal supervision of Mark Hay, our Managing Director.
So you've come to the right place. CHEERS!